News
Dial-in fully operational
2021-07-04
Dear Senfcall users,
after a few weeks in test mode, we can announce today that the telephone dial-in is now in a stable state. The test operation still brought some errors and problems to light, but we have fixed them in the meantime.
From now on, it is possible to join Senfcall meetings reliably by phone. However, if there are any inconsistencies with the telephone dial-in, please report them to us by e-mail.
There may be a charge for using the telephone dial-in, as these are regular landline numbers.
Have fun with Senfcall!
Dial-in in test mode
2021-04-19
Dear Senfcall users,
staring today, we will beginn rolling out of one of the most requested features — phone dial-in! The roll-out will take place gradually throughout this week. With a bit of luck, it will be available for your meeting, too!
If dial-in is available, the phone number and the necessary PIN will be displayed to the moderators in the chat at the beginning of a meeting. Unfortuantely, for technical reasons, the phone number and PIN are not known before the start of the meeting. We hope that in the future, we will be able to offer a better solution with a central phonenumber and predefined PINs. However, it is still unclear when that will be the case.
Senfcall tests motivating user interface
2021-04-02
Dear Senfcallers,
Yesterday, we conducted a large-scale test of motivational sounds that were played when controls were pressed. With the help of 5 learning Big Data blockchains, we will now develop the optimal sound mustard perience over the next few days. In other words, April Fool's!
We thought, in such serious times, this would be a good opportunity to lighten a few exhausting video conferences. Thanks to everyone who contributed sounds of cordless screwdrivers, peanut eating, and choir interludes. We probably had as much fun planning as you did being surprised.
Have a nice day, your Senfcall-Team
Senfcall maintenance on 21 March
2021-03-20
On 3/21/2021 from 1AM to 3AM (UTC +1) we will perform maintenance on our servers. During maintenance Senfcall will not be usable. At 1AM ongoing meetings will be informed and stopped shortly after.
Best wishes,
your Senfcall Team
Big rush on Senfcall
2021-01-18
Dear Senfcallers,
At the beginning of last week, the number of concurrent users on Senfcall increased massively. On Tuesday, we counted close to 6000 simultaneous video conference participants. Before the start of the new year, this would probably have brought Senfcall to a standstill. But the Senfcall team has been working hard for the past week to make Senfcall available to as many people as possible and in its usual spicy quality.
As a result, we only had to disable the creation of new conference rooms for a total of 30 minutes so that ongoing sessions were not interrupted. A single one of our servers, whose number had to be temporarily increased to 25, suffered a technical defect, so the meetings affected by this had to be restarted. We are sorry for the inconvenience this has caused.
In the meantime, we have added new capacity and made some improvements to our system, so we are able to handle this week in a more relaxed manner. The last week has cost us, besides a lot of time and sleep, also more money than we had expected last year. We still have enough reserves to continue running Senfcall until summer with this number of users. However, we have decided to make our donation page more accessible again and have also reopened our Betterplace campaign. Still, we are not currently suffering from a shortage of funds.
A welcome side effect of the rush was some media coverage. For example, the Frankfurter Rundschau reported on the sudden increase in use (article in German) and we were interviewed via Senfcallcall on rheinmaintv (video in German).
We thank you for trusting our service and the exciting experiences. Your Senfcall Team
Small transparency report
2021-01-06
Dear Senfcall users,
2020 has come to an end. Since our launch in March, Senfcall has grown significantly. In this post we would like to give you a review of our success, garnished with some numbers.
We launched Senfcall in March to provide a privacy-friendly alternative for video conferencing. It started with two servers, which we paid for out of our own pockets. On these, we installed the open-source video conferencing software BigBlueButton™ (BBB), which is the core of Senfcall. One server was initially used for testing and customizing new versions, while the other was already in productive use. After successful testing, we launched a fundraising campaign in May that reached its goal of 4000€ in just under four weeks.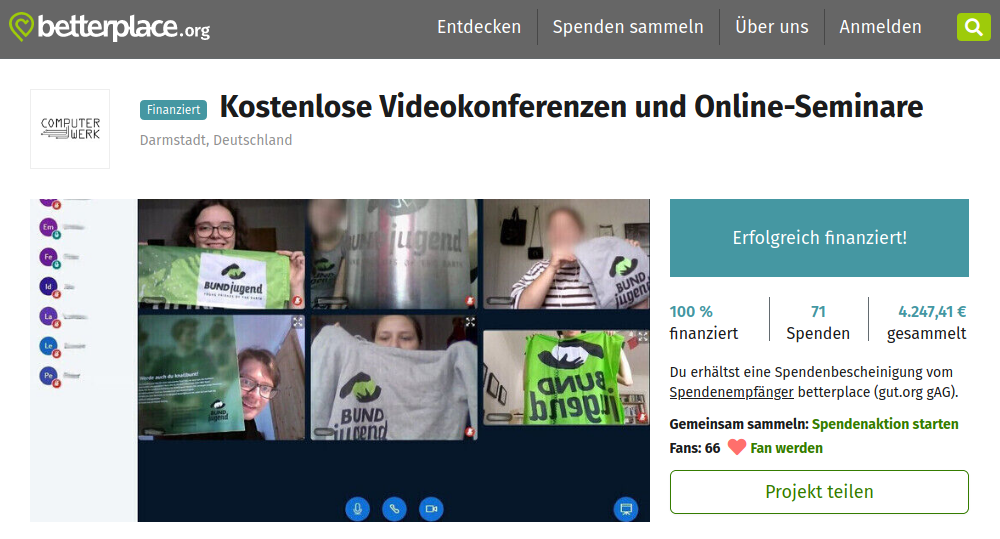 With this money, we were able to gradually upgrade our hardware throughout the year, to meet the increased demand. By now, we have about 450€ in monthly costs, most of which is for the BigBlueButton™ servers where the actual video conferencing takes place. In addition, we pay around 100€ for virtual servers we use for our website, load balancing, testing and development purposes.
In total, over 8800€ was donated to us last year. Thank you very much! Even if there are irregular larger expenses (for example a training for our data protection officer or the consultation of a lawyer), this money will suffice to run Senfcall for more than one year. Our expenses in 2020 amount to a total of about 1800€.
We therefore do not need any more donations for the foreseeable future, and would like your donations to go to other projects that urgently need them now.
We cannot publish many usage statistics, because we don't have them and do not want to have them. For example, we cannot say clearly how many people have used Senfcall so far. However, we can see how many end devices are connected to our servers at any one time. Over the year 2020, an upward trend can be observed. Clearly visible are abrupt rises in usage numbers at the beginning of November and in the week before Christmas. The highest number of simultaneous users so far was recorded on December 16, 2020: On that morning, 1117 people used Senfcall simultaneously.
From our hoster's data, we find that in 2020, our users pushed a total of just over 93 terabytes of videoconferencing mustard through our internet tubes.

In addition to the service available publicly through the website, we also offer accounts to create permanent meeting rooms upon request. So far, 560 people have registered for this.
That was a little insight into the mustard behind the scenes.
We wish you all a spicy new year!
Yours,
The Senfcall Team
Senfcall is now available in English
2020-11-26
We have translated our entire website so that almost all our information is now available in English. Nevertheless, we will only translate the most important of our news. So please refer to the German version of our website to stay up to date.
It still holds, that the language within meetings is determined by the default language set in your browser.
Best wishes,
your Senfcall Team